Daily Addict on the move presented by Lexus CT 200h

Daily Addict Editor, Carrie Kwan, is always on the move scouring cities for hidden gems and the best places to shop, eat, drink and experience. During the month of July she's behind the wheel of the world's first luxury hybrid hatch, the Lexus CT 200h, finding three of the latest hotspots you need to know.
Don't forget to enter our competition below to win a luxury Daily Addict gift pack worth $550.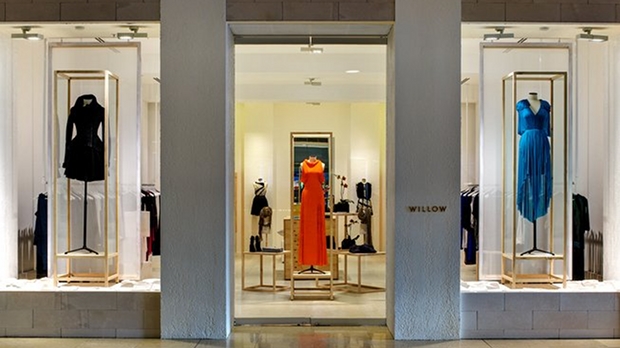 They're not hard to spot — they're the ones draped in liquid silk, swathed in intricate corsetry or encased in knife-sharp tailoring. Abbey Lee Kershaw is just one of them, but you might encounter another anywhere from London to the Middle East.
Kit Willow Podgornik has been quietly amassing a global army of magnificently outfitted women for almost a decade, but the Chatswood Chase (Sydney) boutique is only the fifth to open up on home turf.
Housed inside the airy space you'll find Willow's latest collection Monarch Movement. The inspiration is butterflies, but the talented designer, known for her exquisite drapery, tailoring and corsetry has a knack for freshening up themes that border on cheesy (last season's offering was based on a photograph of a palm tree at sunset).
This time a darker palette and voluminous shapes are anchored by the centrepiece Cocoon coat, a bona fide piece of wearable art typical of the designer's love affair with the clash between feminine and architectural.
Cross over to the other side this winter.
Willow
SYDNEY
 – 3A GLENMORE ROAD, PADDINGTON, SYDNEY. 
T: (02) 9358 4477
CHATSWOOD CHASE
 – SHOP 013, LEVEL 1, 345 VICTORIA AVENUE, CHATSWOOD. T: (02) 9412 1531
MELBOURNE – 
582 MALVERN ROAD, HAWKSBURN, MELBOURNE. 
T: (03) 9510 2444
MELBOURNE GPO – 
350 BOURKE STREET, MELBOURNE.
 T: (03) 9663 0045
ADELAIDE – 
SHOP 126, BURNSIDE VILLAGE, ADELAIDE
. T: (08) 8379 095
Heightened levels of luxury, comfort and style
Lexus know a thing or two about luxury. Just take a look at the world's first luxury hybrid hatch, the CT 200h – an unmatched balance between style, performance and environmental sensitivity for driving. The sense of indulgent comfort starts as you slip inside a smooth black leather accented interior and continues with front seat heaters that will keep you pleasantly warm as the temperature outside starts to fall. It is thoughtful additions like these that put the CT 200h Luxury into a class all of its own.


The CT 200h's beauty is not just skin deep. Beyond its captivating good looks you'll find a host of intelligent technological features that allow your focus to remain on the pleasure of the drive. From the heart-racing excitement of a sportier drive to a more relaxed driving style, the CT 200h responds differently depending on the drive mode selected. A Rear View Camera helpfully displays a view of what is immediately behind you in the interior mirror. As well, the interior mirror is self-dimming to minimise the annoyance of headlamp glare at night from trailing vehicles. Front fog lamps, meanwhile, improve visibility during misty driving conditions. With each addition reassuringly enhancing the safety credentials of the vehicle, the CT 200h Luxury is the complete package.
 ENTER OUR COMPETITION TO WIN A DAILY ADDICT STYLE GIFT PACK WORTH $550
To help you get about your city in style we have a gift pack worth $550 to give away including a $250 Willow Boutique Gift Voucher and ck One Colour Collection 8-piece make up set (value $303).

To Enter simply post a comment on this page (below) and share with us: What is your definition of 'luxury on the go'?
Entries subject to terms and conditions here. Competition closes 30/7/12.
on