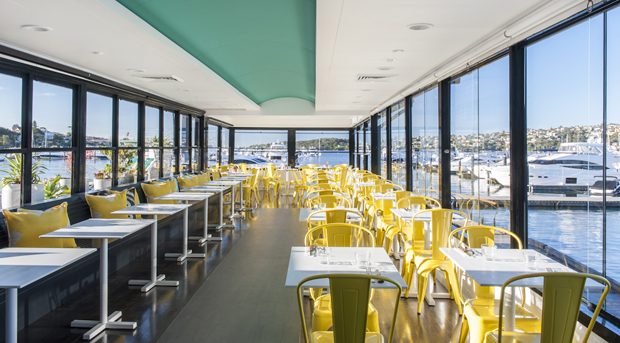 Sob, sob. Sniff, sniff. It's a sad day when one of the nation's most iconic restaurants (Pier) closes its doors for the last time after two decades of culinary glory. But dry your eyes Sydney, we may have been given something even better…is that blasphemy?
In an extreme makeover like no other, we welcome The Sailors Club. Say goodbye to fine dining and hello to a casual eatery cum sleek restaurant cum cocktail bar. The lovechild of Jacqui Lewis (captain at FOLKE and daughter of Pier legend Greg Doyle), think Palm Springs glamour meets French Riviera chic, where everything from the bespoke design to the army of chino-wearing service staff says 'trust us, we know what we're doing'.
If it's a sit-and-eat kinda affair, gazelle down the glass-cased dining room and perch the derrière on a custom-made seat while admiring the fishbowl views and impossibly good-looking crowd. If it's a bevvie and bar snack, veer left at the resort-inspired lounge bar and fight your way for a posse at the new outdoor deck. Hello sunset cocktails!
With ex-Pier Head Chef Steven Skelly still at the helm, the menu is as you'd expect – awesome. For breakfast, don't go past impossibly creamy scrambled eggs or toasted brioche with stewed rhubarb and mascarpone. Post midday, start with a plate of oysters or Serrano ham before tucking into a tuna burger or battered flathead fish and chips. Come starlight, dive into three courses finishing with a solid selection of thirteen desserts. Hint: custard apple and banana sundae.
Stop the sobbing folks, and get to The Sailors Club – before the rest of Sydney does.
The Sailors Club
594 New South Head Road, Rose Bay 2029
T: 02 9327 6561
Open seven days; Monday to Friday midday – till late; Saturday & Sunday 8am till late.
Video
Tour four of Sydney's newest bars and restaurants including Ananas, The Rook, Gowings Bar & Grill and The Sailors Club.
on