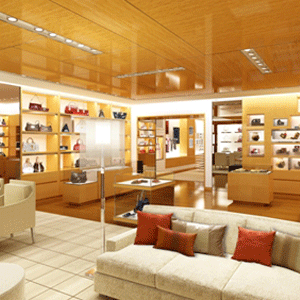 They say absence makes the heart grow fonder, and that could definitely be said for luxury fashion icon Louis Vuitton. The luxury label has reemerged at Crown all sparkly and new and three times the size of its previous space.
Opening last week, the new store remains true to its hallmark Parisian style. Elegance and indulgence is plentiful and for those of you who prefer a little extra special care and attention, it offers a private selling salon where you can purchase at your discretion (a first for Melbourne).
A beat hasn't been skipped in this architectural symphony, from the signature herringbone timber flooring, to the striking time and illuminated glass façade incorporating the infamous Monogram flower pattern, right through to the anigre timber floating ceiling planes, each finish is as luxurious as the next.
You'll find exclusive store pieces including the 'Carrosel' bag in Damier Virtuose; the Monogram Guipure – the key shape of the latest Women's Fall/Winter collection (there's only 30 and 50 of these styles available worldwide respectively); and the new 'SC Bag' collection by Sofia Coppola.
Housing the latest luggage, leather goods, watches, shoes, accessories, sunglasses, ties, belts, agendas, writing instruments and textiles, this is one place you could (happily) do some serious pre-Christmas spending.
Louis Vuitton
Shop 88, 8 Whiteman St Southbank
T: 1300 883 880
on