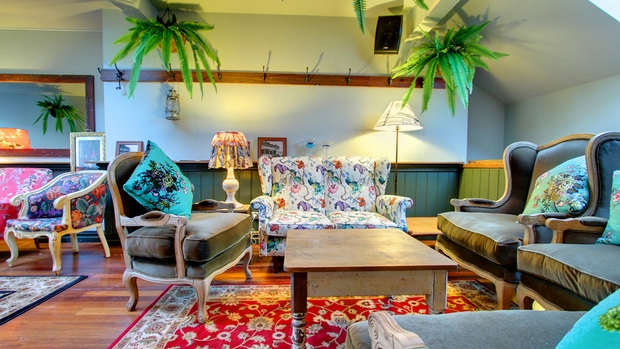 Mismatched furniture, cosy lounges and old fireplaces help create the oodles of character you'll find at Balmain's newest 'be seen' dining and watering hole.
It's no wonder The Cottage feels so good with a fit-out by interior gurus Luchetti Krelle (Momofuko Seiōbo and Hinky Dinks) who wasted no time stripping the building of its recent modern makeover and reinstating its charming 1890 heritage. You'll love the timber floorboards, heritage windows and timber panelling – and scattered knickknacks to boot.
The brainchild of three mates – Chris, Rob and Os – who've enlisted the kitchen prowess of Chef Oscar Vargas (ex-Kingsleys), The Cottage has something for everyone. Fancy a lunch in the front rose garden? Or a private dinner in the rear terrace? There's a bar, dining room, upstairs lounge room (our pick), and a huge dome brick oven cranking out thick fluffy pizzas and piping-hot delights.
Peruse the extensive wine list and choose from a hefty selection of local and international drops, over 20 beers, a couple of ginger beers, and a handful of ciders to keep the ladies happy (hello wild berry Rekorderlig). Or get the party started with a jug of peach Sangria.
Don't leave before tucking into share plates like zucchini fries, walnut and baby beet salad, Sicilian arancini balls, garlic prawns, and wood fired pork belly.
Gather the posse and settle in for a session.
The Cottage
342 Darling Street, Balmain 2041
T: 02 8084 8185
Open seven days: Monday – Saturday, 12pm – 12am; Sunday, 12pm – 10pm
on